Program
PROGRAM ORDER
Danza Teatro Retazos – Transitos en Rojo (link 1)
Peter Jasko – Solo2009
Danza Teatro Retazos (link 2)
Sun-A Lee – Waves
Danza Teatro Retazos (link 3)
420PEOPLE – Golden Crock
Eleonore Valere Lachky and Anton Lachky – In the Way
MORE ABOUT THE PIECES
420PEOPLE – Golden Crock
Same wish, same dream, sets three people on the same path.
Along the way, as the present is constantly changing, they first have to discover them self's.
Their own revelations are taking us into unexpected situations and places.
And perhaps these changes are the true present.
Choreography: Václav Kuneš
Music: Lajkó Félix (arranged by: Harmen Straatman)
Performing: Nataša Novotná, Václav Kuneš and Milan Odstrčil
Eleonore Valere Lachky and Anton Lachky –          In the Way
In the way is based on relationship, how do we listen and don't to each other, how individual or dependent we are. How much we need to say on our own (few, alot)
How silent we need to be…
Choregraphy: Eleonore Valere Lachky and Anton Lachky
Music: Anima Coatica
Performing: Eleonore Valere Lachky and Anton Lachky
Danza Teatro Retazos – Transitos en Rojo             (link 1,2 and 3)
Danza Teatro Retazos is working site specific and in "Transitos en Rojo" they use the urban landscape to create this year's link between the performances. In collaboration with the musician Pär Moberg.
Choregraphy: Isabel Bustos
Music: Glen Velez, Rhytms of The Chakras
Performing: Sheila San Martin Morejon, Danay Acosta Torres and Yoandy Martinez Gonzáles
Musician: Pär Moberg
Sun-A Lee – Waves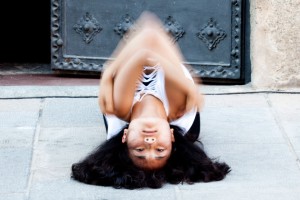 Waves expresses the encounter sound waves and energy movement through the phenomenon of "Ripple". Coming from outside, music, voices or sounds produced reactions within the body and fester until it becomes visually perceptible, as movements, gestures and dance.
"When the music starts, my energy accelerates the heartbeat. I feel that the blood circulates in my veins and it seems like "waves" that dance in my heart until the body transmits to the outside, where the eye of the viewer identifies them as my movement intimate "
– Sun-A Lee
Choregraphy: Sun-A Lee
Music: Pan Sonic IImenemismuoto-Appearanceform, Joskus, Benga Intro, Electro Musik, Duel, Skream Dutch Flowerz (music production and mix N2)
Performing: Sun-A Lee
Peter Jasko – Solo2009
"One day I closed my eyes and saw a land.
Land of power, rhythms, emotions, motions and sentiments…."
This performance is a result of themes, ideas and thoughts related to life, nature and dance as a part of it. Solo2009 is a dance of journeys through different lands. It is about the spontaneous composition of poetry of movements, inspired by the rules of nature and human reality.
Peter Jasko`s dancing embraces a wide range of possibilities, while breaking through categories. He invites you to share how he feels, what he misses, where he goes and how he gets there…
Choregraphy: Peter Jasko
Music: Simon Thierrée, Jozef Vlk
Performing: Peter Jasko